We had to get rid of the comment buttons in the comments because that addon just sucked. In place of buttons is a list of things you can do. For example, if you want to block quote something, it should look like this while you are writing it: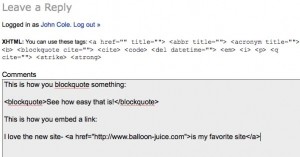 The finished product will look like this:

If you see a WP site with a comment button plugin that works well, let us know. Until now, you have to do it manually.
Also, we can now do polls:
[poll id=2]
*** Update ***
There is no plugin that can deal with end-user stupidity. If you can not figure out how to use the tags listed below from the pictures I have given you above, this is not my problem or a problem with the html. That is simple operator fail.
Or maybe not. It looks like something is all funked up.