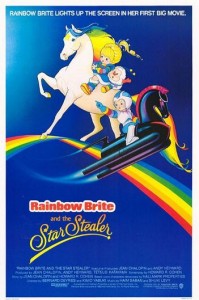 This, from NRO's Rich Lowry, is just spectacular:
Palin too projects through the screen like crazy. I'm sure I'm not the only male in America who, when Palin dropped her first wink, sat up a little straighter on the couch and said, "Hey, I think she just winked at me." And her smile. By the end, when she clearly knew she was doing well, it was so sparkling it was almost mesmerizing. It sent little starbursts through the screen and ricocheting around the living rooms of America.
Rainbowbrite may lite up the screen, but does she shoot starbursts and sparkle like Palin? I think not!
By now you have all seen that Lowry quote (I have seen it at least five places), but as an amateur historian of sorts as a blogger, I felt it was necessary to add to the archives for posterity. I guarantee that Derbyshire poured four fingers of Maker's Mark into his coffee when he read that baby this morning.
The final word on this goes to Mr. Wolcott:
Good thing Palin didn't blow a kiss at the camera or Lowry might have fucking fainted. I'm not a licensed psychotherapist but when you think the people on TV are addressing you personally and directly it's often a sign of incipient dementia.

I confess to being immune to Palin's contrived charms. Everything about her strikes me as phony–she possesses about as much depth as aluminum siding. And I wasn't surprised to read that Gwen Ifill was a dud as a moderator–her vaunted reputation is one of those Beltway myths, like David Broder's mantle of judiciousness.