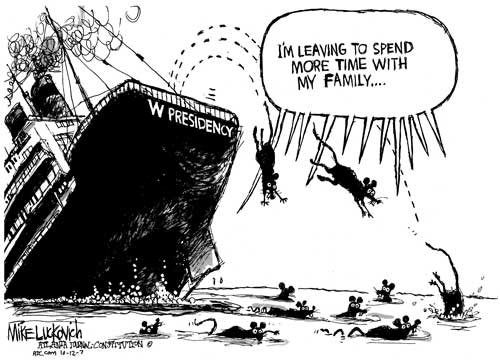 Mike Luckovich cartoon.
***
A very wise man said the following all the way back in February:
So here is why they are sabotaging McCain- they want him to lose, or at the very least are hedging their bets. They want and need to paint him as not conservative, not pure enough to really represent the wildly successful (in their minds) conservatism that makes up the Bush dead-enders. That way, when they are blown out of the water in 2008, they don't have to do any reflection, they don't have to assess, re-prioritize, or re-think their policies. They can simply pin it all on McCain, claim he lost because he didn't offer the voters a "real" conservative alternative, and get back to championing the end of the "death tax" and other important issues without skipping a beat.

In other words, McCain is the fall guy, and they are just distancing themselves from him.
Today, on Fox News, the finger-pointing begins:
The coming circular firing squad is going to be fun.
*** Update ***
Glenn notes what I missed while watching that clip- it was Bill Kristol who as recently as a few weeks ago was telling the McCain campaign to go negative. Now, here he is today, attacking them for using useless attacks. Bill Kristol- always wrong, never to blame. Nice work, if you can get it.
*** Update #2 ***
Sullivan catches another one:
"The Right can only be depressed as they watch Obama buoyed by a world credit crisis and the deep unpopularity of a president who campaigned but never governed like a conservative," – David Freddoso, New York Post.
This is the same David Freddoso who, just a few weeks ago, was scandalized that Obama followed the law.