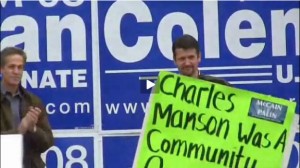 First Dude in front of a rally attendant holding a sign that says "Charles Manson was a community organizer." Classy.
***
Cause:
John McCain, third debate: We need to know the full extent of Senator Obama's relationship with ACORN, who is now on the verge of maybe perpetrating one of the greatest frauds in voter history in this country, maybe destroying the fabric of democracy. The same front outfit organization that your campaign gave $832,000 for "lighting and site selection." So all of these things need to be examined, of course.
An ACORN community organizer received a death threat and the liberal activist group's Boston and Seattle offices were vandalized Thursday, reflecting mounting tensions over its role in registering 1.3 million mostly poor and minority Americans to vote next month.
John McCain is so concerned about domestic terrorism, he and his campaign are trying to create a bunch of them.
(via)