There has been some funny this election. The right-wing meltdown has been fun to watch, SNL has been great, and the nice thing about the election is that after eight years of Bush, regardless who wins, there will be new material for the comedians. As such, this preview from the 2009 Dancing With the Stars: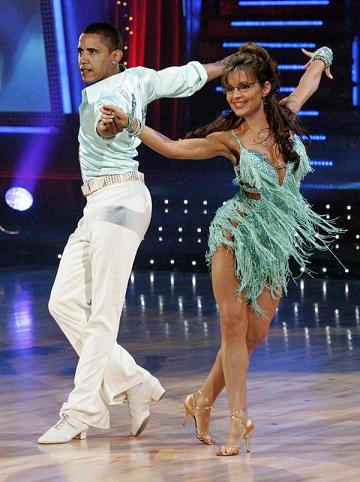 I will be back later.
*** Update ***
An example of something that I find very funny. Over the past few years, we have watched major corporations dump their pensions and move hundreds of thousands of people off private health insurance on to medicare and medicaid at the government's expense (Delta Airlines comes to mind, I believe United was another one from the 2005 PBGC mess), we have doubled the national debt and passed the MASSIVE prescription drug plan, we have watched the government nationalize several industries, the government is currently nationalizing the banks, the Republican party candidate is proposing spending near a half trillion dollars allowing the government to buy private mortgages, and the right wing is running around screaming "SOCIALISM" because Obama is proposing increasing the top tax rates a few percentage points.
That is funny. Sad and depressing, but funny.