Yesterday, Drudge had another multiple siren alert about a McCain volunteer being robbed in Pittsburgh by an Obama supporter who then allegedly assaulted her, mutilated her, and then carved a backwards 'B" into her face because he was enraged by a McCain sticker on her care. Memeorandum looked like this: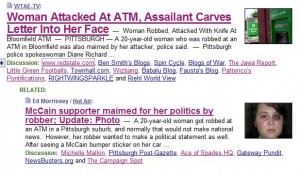 Red State kicked it up a notch, in case you missed the point:
Today there is a new, more violent twist. A McCain supporter, a 20 year old college Republican volunteer, was savagely attacked by a Barack Obama supporter in Pennsylvania. She was at an ATM getting money. He saw the McCain sticker on her car, robbed her, and carved a "B" into the side of her face.

He carved her face like it was a pumpkin
You can see where this is going, can't you? Alrighty then:

SHE MADE IT ALL UP:
Police sources tell KDKA that a campaign worker has now confessed to making up a story that a mugger attacked her and cut the letter "B" in her face after seeing her McCain bumper sticker.

Ashley Todd, 20, of Texas, initially told police that she was robbed at an ATM in Bloomfield and that the suspect became enraged and started beating her after seeing her GOP sticker on her car.

Police investigating the alleged attack, however, began to notice some inconsistencies in her story and administered a polygraph test.
I am so sick and tired of all this bullshit.
Credit where credit is due- Michelle Malkin never once bought into the story, to her credit.
*** Update ***