Well, as close as I have ever been to India anyway. Halef and I drove up to Lilburn to check out the BAPS Shri Swaminarayan Mandir. It is the largest traditional Vedic Hindu Temple of stone and marble to be constructed in the United States. The company he worked for did the landscape architecture.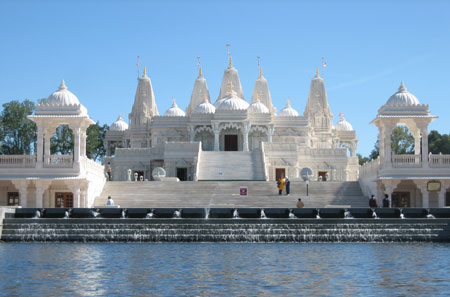 Click the image for a high resolution view.
I've never quite seen anything like this. In fact, it was a little overwhelming. The detail in the carving of each piece of stone was incredible. I've heard it took 900 artisans to pull this off. The work was done in India, and the pieces were shipped to Atlanta and put together like a giant jigsaw puzzle. Unfortunately, we were not permitted to take pictures inside – unfortunate because, while you're generally impressed with the outside, the inside will blow you away. We're going to go back at night so we can see it lit by floodlights.
Update: Next week, we're going to visit the new al-Farooq mosque in Atlanta. I'll bring my camera, just in case I spot a certain presidential Candidate.