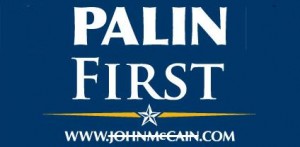 This is awesome:
In an interview with ABC News' Elizabeth Vargas, the Republican vice-presidential nominee was asked about 2012, whether she was discouraged by the daily attacks on the campaign trail, and would instead pack it in and return to her home state of Alaska.

"I think that, if I were to give up and wave a white flag of surrender against some of the political shots that we've taken, that would bring this whole … I'm not doing this for naught," Palin said.

Palin said she believed in the current GOP ticket and that she was "thinking that it's going to go our way on Tuesday, Nov. 4. I truly believe that the wisdom of the people will be revealed on that day," she said.
Maverick! After all, she has said she has nothing to lose.
I hope the ever-narrowing frothing right base rushes to embrace their new Queen.
(Graphic mailed in from a reader)