One of my favorite things about running a website is the spam filter. It is nothing but joy going through the filter, trying to figure out what is an actual comment, what is an advertisement for a penis enlarger, and what is an advertisement for a penis enlarger masquerading as an actual comment, and so forth. Clearing the spam filter is EASILY the highlight of my day.
Thus, when I am cleaning the spam filter, nothing makes me happier than to see a commenter who has somehow or another been caught in the filter, and rather than take the hint, posts the SAME GOD DAMNED COMMENT EIGHT TIMES. Usually it starts out with the comment, then the second version of the same comment starts with a playful "The last comment got moderated, so I am trying this again" until it devolves into a paranoid conspiracy that requires all caps- "THIS IS THE ELEVENTY-THIRD TIME I HAVE TRIED TO SUBMIT THIS COMMENT, LET'S SEE IF THIS WORKS."
Listen closely, folks- submitting the same comment multiple times to see if the next time, it will take, betrays a fundamental lack of understanding as to how machines work. The spam filter isn't suddenly going to think to itself- "Gee, this guy seems really intent on getting this comment through, so I will let this 6th version of the same comment to go live, even though I stopped the previous five."
In short, if you find yourself in the spam filter, you are there until I fish you out, so there is no point posting the same damned comment 8432 times, increasingly agitated with each successive attempt. All you do is make my life a bigger pain in the ass. And, to be honest, I have no idea why some of you end up in there. Sometimes it may be your IP address. Other times there are flagged words- "pussy" and "viagra" and "poker" and "lexipro" are some that I know get flagged.
And now, a pet picture: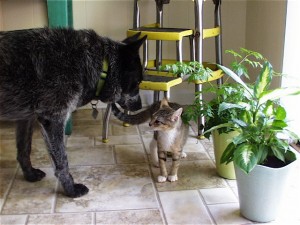 Claim your kids.