Jon Henke, writing at the Next Right, has the following to say:
The problem is a movement that plays small-ball and cedes responsibility for infrastructure to business interests, leadership that rewards those who make friends rather than waves, an entrenched Party and Movement support system that mostly supports itself, an echo chamber that has rotted our intellect, a grassroots that is ill-equipped to shape the Republican Party, and a Republican Party that has replaced strategy with tactics, substance with marketing.

These problems can be fixed, but the fix is not cosmetic. The rot is deep. We do not need reformation of the Republican Party; we need transformation of the Republican Party. That is going to require fresh blood, new ideas, new infrastructure…and perhaps more than a little time in the wilderness.

You have earned the time you will spend wandering in the wildnerness. The land on the other side is not a promised land. It will have to be earned, too.
In the WaPo today, George Will notes that GOP carnage in the past two years has produced losses so steep for the Republicans that you have to go back to the Depression to match them, and the reason the house of cards fell so quickly was because, as Henke noted, the rot was so deep. This is not a cosmetic problem for the GOP. This is systemic.
That is what is so damned entertaining about the short-term circular firing squad- it really symbolizes how deep in denial some of these folks are. These guys are delusional if they think the problem was an insufficient number of Red State mugs on the Palin plane and inadequate fealty to the cause. The problem is not inadequate adherence to unnamed "principles," the problem is that they simply have no principles. They have slogans. Nothing symbolizes the slogan driven tactics over strategy GOP quagmire quite like one of my favorite episodes from the last election- the tire pressure gauge imbroglio.
There was nothing that really summed up the idiocy of the GOP quite like Rick Davis and company passing out tire pressure gauges in an attempt to mock a common sense approach to dealing with one of many aspects of the energy crisis. I am sure it will surprise no one that the brain trust at Red State was issuing action alerts for this, too.
In short, America got seduced by the Republican sweet talk, we took them home into our bedroom for some good times, and instead of performance, it turns out the Republicans have a serious case of electile dysfunction. Rather than hold true to their "principles," they chose to sit on the edge of the bed for eight years and tell us how good it was going to be, and we lost interest and fell asleep.
When we woke up, we realized that in one way, the GOP had kept their word, in a sense- we did get screwed. And we then had our own payback on Tuesday: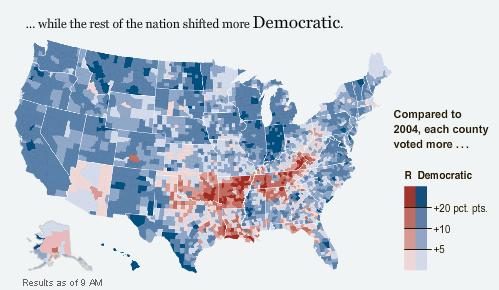 That is a map of the country, and the blue shaded areas are where Americans voted more Democratic than they did in 2004. Say what you will, the American people did not have performance anxiety on Tuesday, and the Republicans got the rogering they deserved.
And this is why Henke is so very right, and the purity police have it so wrong. The Republican party is a train wreck. These short term power struggles and attempts to "re-brand" the GOP are doomed to fail, even though they will be a source of endless entertainment for me. Elevating Cantor and Pence means more of the same from the Republicans.
What the GOP needs to do is cool their heels. The frenetic nonsense of the last few years has gotten them nowhere, and talking about principles is pointless when you have none. The party of limited government talks a good game, but owns the $500 billion dollar deficit this year and $5 trillion in debt from the past two administrations. You don't get to pretend you are the party of limited government when your crowning achievement of the last eight years is the Schiavo legislation. I suspect the only principles they honestly have left are the ones they know are so repellent to the public at large that they refuse to voice them. Every now and then they act on them, and the public swats them on the nose. See Frost, Graeme.
If they were smart, they would regroup, and decide what they stand for and present it to the American people. Instead, I suspect we will get several more months of infighting over tactics and appearances, and more purges of those who wish to engage in a debate over the party's direction. It isn't just that many of the folks leading the purge disagree with George Will and Peggy Noonan and Daniel Larison and Sullivan and Ron Paul about the direction of the future GOP- they want them destroyed for suggesting there needs to be a debate. That is how dead the party is, and Henke is right. They need some time in the wilderness, to figure out who they are and what they believe in and why and how it will be better for the country.
Instead, I suspect we will see Palin pom poms and purity purges, which is all the more humorous given the defections from prominent conservatives to Obama, they are already whittled down to the true belivers. It would be funny if our nation's currrent two-party system did not require a competent opposition party.
*** Update ***
BTW- I am writing this in a conference presentation that is so dull that I would rather listen to the collected dictionary readings of Al Gore. As such, there will probably be all sorts of grammar and spelling issues, as I am crammed in a uncomfortable chair while writing and occasionally feigning interest in the speaker.
*** Update #2 ***
Yglesias spells this all out in seven words:

"Wingnuts Prepare to Wind the Cocoon Tighter"
Clap louder.
*** Update #3 ***
From the comments at Larison's:
Let me remind you of who ran in the primaries: Fred Thompson, who has no visible qualifications whatsoever other than a gravelly voice and television crime drama expertise. Mike Huckabee, who is charming and skilled politically, but has no serious knowledge of most issues, especially foreign policy. Rudy Guilliani, a total whackjob with no comprehension of what governing a country actually means. McCain, who as you know has spent a lifetime flaunting his POW status to mask a serious lack of interest in any policy details about anything, including foreign policy, but who has limitless confidence in his own power to accomplish anything he sets his mind to, even though he's never actually accomplished anything he set his mind to. Ron Paul, who though beloved by his fans and relatively knowledgable, was completely rejected by the party as a whole. And Romney, of course, who is actually relatively intelligent and reasonably well inforned, but who alienated almost everyone outside his own circle of supporters. So how is it exactly that Palin is overshadowed by these giants? It's not as if Republicans have set a high bar of knowledge, expertise, judgment, and accomplishment. Their "high bar" is all about theatrical performance and nerve, both of which Palin has in abundance.

There's a reason for this. Any candidate with real intelligence, judgment, and expertise would not support the policies of the Republican party platform, plain and simple. As long as those basic policies remain unchanged, the candidates who will succeed must be able to practice deep denial while acting with full confidence in their righteousness. This means the qualifications to be the GOP nominee are mostly ones of psychological imbalance and theatrical skill. To change that situation, the entire policy agenda of the Republican party would have to change, and that simply isn't going to happen.