Halef and I visited the Al-Farooq Masjid (Mosque) in Atlanta today and took an educational tour with Mohammed Zohbe, a member of the Masjid from Lebanon. Needless to say, it was an awesome experience. Mr. Zohbe explained a LOT of things to us. The Al-Farooq mosque is a place for all Muslims. Shi'a and Sunni are political constructs that don't seem to mean anything here. A lot of misconceptions completely cleared up.
I didn't quite believe that Islam was a violent religion (although I am ashamed to say I made fun of the religion during my, er, earlier days of blogging.) Now, after having talked to so many people today, I am certain it's not. It was an awesome experience. A few pictures: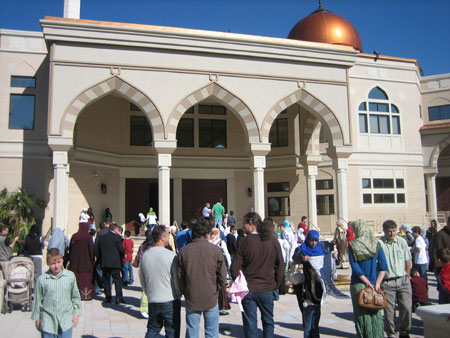 Outside the Masjid – worshippers and tourists.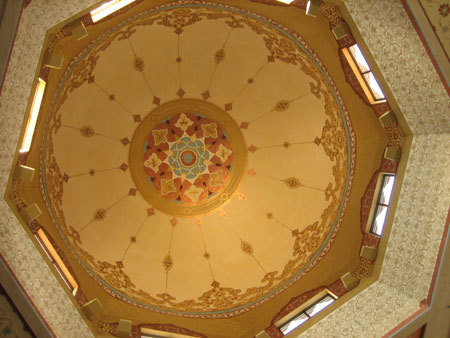 The view of the main dome from the inside. Due to an structural error, the massive chandalier cannot be hung as it should be. The dome cannot support the weight. In my opinion, no big deal. It's beautiful the way it is.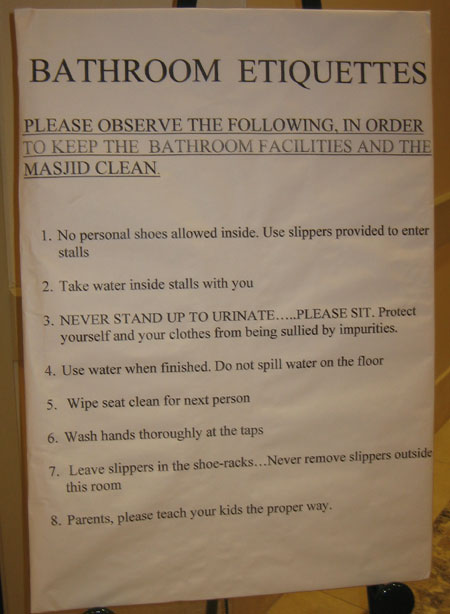 Yes, Muslims live by etiquette. This is just one of the odder rules, but there are rules for everything. When a Muslim enters your home, he or she must smile and be gracious, for example. I just took the "Bathroom Etiquette" picture to show you how rules apply – even things that seem strange to you and me. The funny thing is that Mr. Zohbe told me a lot of people take pictures of this, but it's ok. The more we understand each other, he noted, even the strange things, the better.
One thing that stuck me more than anything was this: Under Islam, men and women are equal. It is culture, not religion, that oppresses women. I was amazed at the role women played in the decision-making and in life.