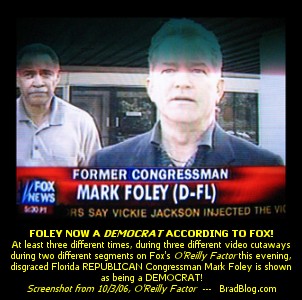 Michelle Malkin, always the Republican victim:
Fitzgerald says President-elect Obama was not implicated in the plethora of charges against Democrats Blago and Harris. The national media went out of their way to absolve him, too. But declaring Team Obama's hands clean — especially with Blago crony and indicted Obama donor Tony Rezko in the middle of it all — is premature. (And if you're wondering why I keep putting "Democrat" in front of the accused corruptocrats, it's because the mainstream newspapers can't seem to remember to identify their party prominently the way they do when Republicans are nabbed.)
Really? The media is refusing to identify the party Blagojevich belongs to? Hrmm. Let's check the front pages of some major news organizations. The hated NY Times:
In a sequence of events that neatly captures the contradictions of Barack Obama's rise through Illinois politics, a phone call he made three months ago to urge passage of a state ethics bill indirectly contributed to the downfall of a fellow Democrat he twice supported, Gov. Rod R. Blagojevich.
The LA Times:
Blagojevich, a Democrat who ran as a reformer eager to clean up corruption at the statehouse, spoke explicitly about the alleged bribes in profanity-laced conversations captured on FBI wiretaps in the governor's home and campaign office, authorities said.
The WaPo:
Federal prosecutors charged Illinois Gov. Rod Blagojevich (D) yesterday with engaging in a series of illegal schemes intended to enrich himself, including an attempt to sell the Senate seat recently vacated by President-elect Barack Obama.
The WSJ:
The arrests of Mr. Blagojevich, a Democrat, and his chief of staff, John Harris, opened a new chapter in a state with a long history of wrongdoing by elected officials. Mr. Blagojevich (Blah-GOY-uh-vitch), 51 years old, and chief of staff John Harris, 46, were each charged with conspiracy to commit mail and wire fraud and solicitation of bribery.
AJC:
At the same time, Blagojevich egged on investigators, saying he didn't care whether his conversations were being recorded, a flash of the sort of antagonistic style the two-term Illinois Democrat has become known for.
The Christian Science Monitor:
The arrest makes Governor Blagojevich, a Democrat, the second Illinois chief executive in a row to face charges of pay-to-play politics, a dispiriting event for residents weary of the state's reputation for seamy politics. His predecessor, Republican George Ryan, is serving a 6-1/2-year sentence for a corruption conviction two years ago.
The Boston Globe:
In conversations riddled with coarse language and blunt threats that the FBI recorded with telephone wiretaps and listening devices planted in his campaign office, the Democratic governor laid bare a "pay-for-play" culture that, according to prosecutors, began shortly after he took office in 2002 and continued until before sunrise yesterday, when FBI agents arrested him and John Harris, his chief of staff.
Let's try the major television networks. ABC:
What the stunning charges leveled against Gov. Rod Blagojevich, D-Ill., mean for the heretofore flawless transition…
CBS:
Federal prosecutors said flatly that there is no evidence of involvement by the president-elect in allegations that Blagojevich (D) attempted to sell Obama's vacant Senate seat to the highest bidder.
Fair enough. But I bet the dastardly cable networks are covering up Blagojevich's political affiliation. CNN:
Illinois Gov. Rod Blagojevich reportedly is planning to return to work Wednesday, a day after his indictment on federal corruption charges.

Illinois Gov. Rod Blagojevich, a Democrat, was arrested Tuesday on federal corruption charges.

The Democrat appeared in court Tuesday afternoon to hear federal corruption charges against him and was released on $4,500 bail.
The federal corruption allegations against Illinois Gov. Rod Blagojevich cast an embarrassing glare on the world of Chicago politics he shares with President-elect Barack Obama, even though the two Democrats aren't close and there is no suggestion Obama did anything inappropriate.
Drama and suspicion have long surrounded Mr. Blagojevich, a 51-year-old Democrat known locally for his quirky love of Elvis and a big black signature hairstyle of his own. Though he ran for office as a reformer, he has been embroiled for years in a federal investigation into hiring fraud that included multiple departments under his purview.
Guess not. Maybe the international papers are not covering his political affiliation? The UK Guardian:
Blagojevich, a Democrat, also thought about making his own run for the White House in 2016.
The China Daily:
A 76-page FBI affidavit said the 51-year-old Democratic governor was intercepted on court-authorized wiretaps over the last month conspiring to sell or trade the vacant Senate seat for personal benefits for himself and his wife, Patti.
Der Gouverneur des US-Bundesstaates Illinois, Rod Blagojevich, ist unter Korruptionsverdacht verhaftet worden. Ermittler werfen dem 51-jährigen Demokraten unter anderem vor, dass er den frei werdenden Senatssitz des künftigen US-Präsidenten Barack Obama verschachern wollte.
I give up. I am swamped with work, and that is 15 minutes of my time I will not get back. Maybe there are a wealth of stories out there that are failing to identify his political affiliation, but every website I have in my bookmarks did. There is a distinct possibility that Michelle Malkin is utterly and completely full of shit.