For those of you who have long whinged and moaned and complained about the kitty hegemony of this website, you are about to be inundated with pictures of teh cute in puppy form. Those of you who are uninterested in pictures of adorable Jack Russell terrier puppies are just going to have to bear with us for a while. Or you could move to China, you America hating godless communists. As has been noted before, you are either with us, or with the terriers.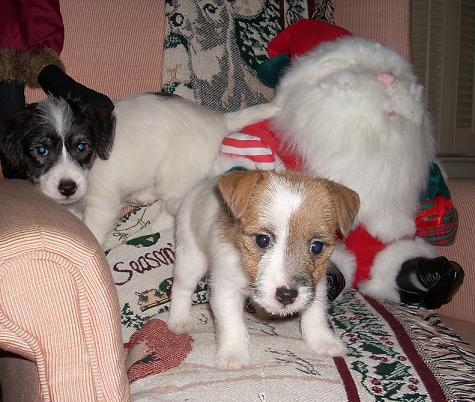 Word on the street is that Guesly (pronounced Goozly), the male with black coloring, is very bold and just wants to be pet and touched and cuddled. Ginny, the brown one, is a little shy, but reliable sources have told me that she is actually the ornery one. Apparently she runs around and investigates, finds things to get into, Guesly then joins her, she loses interest, and Guesly is left holding the ball. From my own personal experiences with women and in particular with sisters, this story resonates.
Also, we had our first accident this morning, and on an Oriental rug. One last thing- several of you seem to be under the impression that I have seen the dogs. I have not. While the strongly held belief is that most bloggers are in fact writing from their parent's basement wearing pajamas, I have not lived at home since I was 17 (and considering what an insufferable bastard I was as a teenager, that was a good thing). My parents are just gushing, and are already madly in love with their new pups.
At any rate, more pics later on today, I am assured, so you ill get another fix this afternoon.
*** Update #2 ***
Hot off the presses: