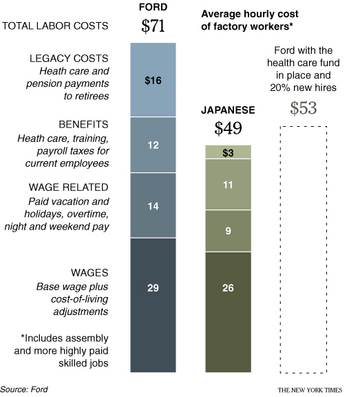 Assume that the graph here is accurate, and the majority of the difference between what foreign auto companies pay for labor is the costs of retiree benefits.
The question- who does everyone think is going to pay for these retiree's health care if the auto companies go under or the unions throw them under the bus and give up on their benefits? And you can't just say the pensioners, because as far as they are concerned, they already DID pay for their future health care costs when they took lower wages for thirty years in exchange for benefits.
Or have we just not gotten THAT far in the discussion yet?
(Also, this graph is from Ford, which I understand is in the best shape of the Big Three. Does anyone have a similar graph for GM and Chrysler?)