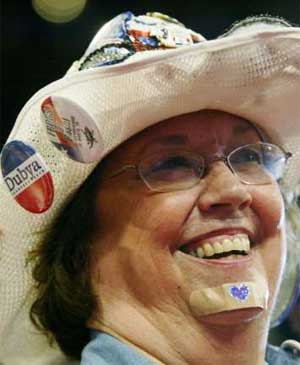 In what may be the limpest battle cry to date (except, perhaps, for the title of this post), Jon Henke states that it is Republicans who are the perennial victims of having their patriotism questioned, and it is the lazy liberal media's fault for not calling the Democrats on it:
One of the greatest Democratic tricks this past 8 years has been the Patriotism Dodge: their inexplicable ability to convince the press that their patriotism was being attacked at every turn. Sadly, the press rarely followed up the Democratic harumphing with a simple corrective: "However, nothing had been said about their patriotism." Their feigned outrage after the Max Cleland ad was probably the first notable example of this misdirection tactic, but they used it routinely.

Even more impressive, if that is the word, has been the Democratic ability to play the martyred patriot even as they were explicitly questioning the patriotism of their opponents.
This is such an absurd assertion that I am not going to go back and list the hundreds of times that Republicans have smeared Democrats as unpatriotic and overtly questioned their allegiance to the country (interested parties could start with the phrase "objectively pro-terrorist," and work their way through various keyword searches that include "Dick Durbin + Pol Pot" or "John + Kerry + patriotism"), but instead I will turn to the words of the GOP's standard bearer, his vice-presidential nominee, and even his wife, as recently as two months ago.
Former Navy pilot John McCain took direct aim Saturday at Barack Obama's recent comment that his primary victory in Iowa "vindicated" his faith in Americans.

"My country has never had to prove anything to me, my friends," McCain insisted at a morning rally in Springfield, Va., and again at an airport hangar here in the Philadelphia suburbs.

"I've always had faith in it and I've been humbled and honored to serve it," he added. "I haven't been vindicated by anything."
Sarah Palin, and really, it is hard to narrow it down to just one example:
"This is not a man who sees America as you and I do — as the greatest force for good in the world," Palin said. "This is someone who sees America as imperfect enough to pal around with terrorists who targeted their own country."
In a rare move, Mrs. McCain also challenged Mrs. Obama's remark, saying as she introduced her husband at a rally shortly after Obama's remarks, "I'm proud of my country, I don't know if you heard those words earlier. I'm very proud of my country."
In fact, an argument could be made that questioning the Obama's patriotism was the only growth industry of the last twelve months. I could go on, but why should I? We all know how silly this will get with me listing the hundreds of quotes from over the years, let alone the last campaign. And that is without even tapping into the gold mine of commercials released by the McCain campaign and the RNC.
Now what has Jon upset are some quotes that Democrats made when the Republicans put the kaibosh on the auto loans last week, in which Jennifer Granholm and others stated the action was "unpatriotic" and "un-American." While I would personally not have used those terms, I would like to ask folks how they would describe sitting US Senators actively working with foreign auto manufacturers to drive down the wages of American labor because their states have heavy investments from foreign companies. I might not call it unpatriotic, but I sure as shit wouldn't file it under patriotism, either.
Poor Republican victims.
(via)
*** Update ***
If you google the phrase "but don't question their patriotism," all sorts of fun stuff comes up, including this at the very top of the google search:
You know, back in the 2004 elections, those were the people who were complaining that their opponents were attacking their patriotism. They assured us that they loved this country just as much as anybody.

They don't, really. What they love is an idealized version of this country that doesn't exist. What they love is "America", a fantasy state in which there are no conservatives, and especially no religious right. It's an America where everyone has a fulfilling life of dignity and value, where there are no homeless people, no crime, and where fuzzy kitties and fluffy bunnies abound for the stroking.
The author of that?

Dale Franks, Jon Henke's co-blogger at Q and O. Enter the phrase here, and you can find me in my wingnutty prime.