I am pleased to report the puppies are doing well, and they are being fed a steady diet of stuffed animals. I also note that their new Steeler dog collars (all Cole dogs wear them) were in place for yesterday's game against the Ravens: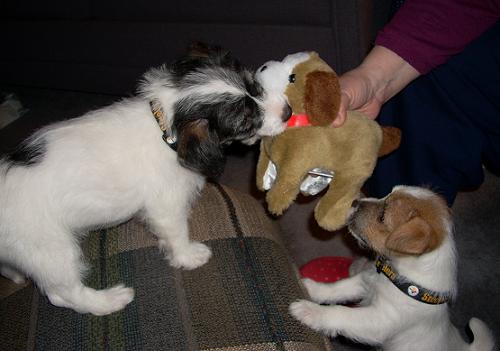 That is all.
*** Update ***
BTW, I started watching Heroes last night. I watched the first two episodes and it was pretty solid. I think I am going to give the whole first season a shot over the next couple of weeks, but I had a couple questions. What season is currently airing on NBC? Does it go down hill, and am I setting myself up for another Lost fiasco, in which I get totally into a show and then it becomes an impenetrable and unwatchable series of disjointed nonsense and I give up in disgust?
I suppose all shows are like that to some extent- I got tired of BSG after 2.5 and quit watching, and even though I loved Buffy, after she started sleeping with every vampire in sight and morphed into Buffy the Vampire Layer, it became harder to watch. Nothing was as bad, however, as Lost, which always had a premise that was hard to swallow, but rather quickly became too absurd for even tv fiction. At any rate, I suppose I will watch Heroes simply because Tawny Cypress is absurdly good looking. That will keep my attention for at least the first season.
Let the nerd fury begin.