So Greg Sargent is leaving TPM and starting up a new blog venture at the Washington Post. This has the usual suspects up in arms at Red State:
I'm sure Greg Sargent is good at what he does, but I'm also sure the Washington Post would not even consider hiring someone directly from the right-of-center blogosphere.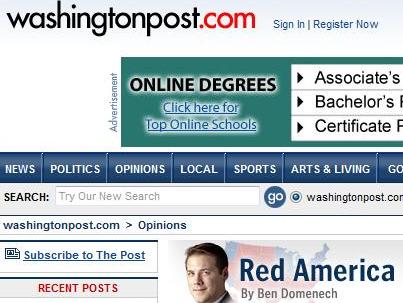 I wonder where the Washington Post hired him from? Had to be some pinko commie left-wing rag, since we are assured that the WaPo would never hire a right-winger. Let's check:
Ben Domenech is a co-founder of RedState, the web's leading Republican community blog. He began his career as a political journalist covering Capitol Hill, writing for numerous publications and working as a contributing editor to National Review Online. After 9/11, he abandoned the journalism field for a taxpayer-funded life and was sworn in as the youngest political appointee of President George W. Bush. Following a year as a speechwriter for HHS Secretary Tommy Thompson and two as the chief speechwriter for Texas Senator John Cornyn, Ben is now a book editor for Regnery Publishing, where he has edited multiple bestsellers and books by Michelle Malkin, Ramesh Ponnuru, and Hugh Hewitt….
DOH! Fail.
*** Update ***
Looking through the comments, I would like to point out that the point of this post was to mock the notion that the media would not pick a right-of-center pundit (someone at Red State saying that in this case was as silly as if Michael Goldfarb or someone else from the Weekly Standard whined that the NY Times would never hire a conservative), not to provide a forum to crap all over Ben and re-visit the plagiarism scandal.
He made a mistake, and I remember defending him at the time. I disagree with him on a lot of things, and he has said some stupid and offensive things (but probably not as many as me), but he was always nice to me, and I think is at heart a decent person, so please stop it. I hate pile-ons, and I hate the notion that because someone made a mistake, their life should be ruined. That just isn't cool.