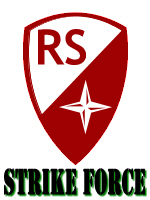 I am a little late to the game on this, but I just want to be on record mocking the new Official Red Ryder Carbine-Action Two-Hundred-Shot Range Model Air Rifle Red State Strike Force. The Bradrocket made a really solid point today in an unrelated matter when he said the following:
Everything you guys write is tainted by the simple fact that you're crazy assholes. If you'd like your work to be taken seriously by anyone who isn't on your own personal LISTSERVs and Twitter accounts, the first step is to stop being crazy assholes. If you enjoy being crazy assholes and don't want to give up the habit, that's cool, but don't expect to earn much respect from normal people. Make sense?
The key to electoral success for the GOP is not an elite strike force of blithering idiots spamming everyone's email with bullshit about Obama's birth certificate. The nation doesn't need a trillion twitters about William Ayers, they need a Republican party that isn't batshit insane. Spending all this time pretending the only problem is insufficient text message spam is going to get you nowhere, because the reason we elected a bunch of Democrats the last couple of years is because the Republicans and their ideas suck.
*** Update ***
More silliness at the RNC meet the candidate thing today:
For much of the 2008 campaign, Texas lawmaker and Republican presidential candidate Ron Paul and his supporters served as a thorn in the side—or a punching bag—for the mainstream GOP establishment.

Yet today, the six men vying to run the Republican National Committee praised the grassroots enthusiasm Paul tapped into during his campaign—and discussed how they would like to capture that enthusiasm to expand the party's appeal.

"Ron Paul certainly brought a whole new generation of voters and I think it's important going forward that we recognize the strengths and the attributes of these individuals who are out there actively building the party and building a movement, a consensus if you will, on certain issues. We can't look that in the eye and say 'No, we don't want that,'" said former Maryland Lt. Gov. Michael Steele, adding that the RNC needs to find "creative ways" to work with candidates supported by Paul and his followers, and to work with Paul directly to that end.

"I think, at this stage at this party, everyone who can help us should be brought into the room to help us," Steele said.

South Carolina Republican Party Chairman Katon Dawson recalled memories of Paul's supporters campaigning during his state's early primary.

"I witnessed early on the Ron Paul army in South Carolina," Dawson said, stressing the importance of building new coalitions. "I want people involved in my party that will hang off bridges and paint on their cars and make up t-shirts. There was a passion that I saw of those people for him and his ideas. Do we agree with all of them? No, but we are a party that has to embrace differences."
What party are these guys trying to become the chairman of, because it sure as hell isn't the Republican party if they are praising Ron Paul. Christ on a crutch, if the GOP is all into the newfangled intertrons, what with these alien inventions of facebook and twitter, they might try out the google, too. I would suggest doing a search for the term "Paultard," and see what the Republican base thinks of Ron Paul and his supporters.
So the future for the GOP lies in twitter and attracting the support of people they declared all out war on for the past year. Good luck with that.