Some good old-fashioned American style football is on the tv today, not to be confused with that sissified European style stuff that might appeal to bon vivants, raconteurs, and other French sounding furrriner types (or even filthy Surrey schoolboys such as Sullivan). Nope- we are talking real men with leather balls.
At any rate, as a Steelers fan and near professional Ray Lewis hater, I am grudgingly rooting for the Titans over the Ravens, and while I would not be so crass to say so out loud, I might more accurately be described as rooting for injuries.
In the girlie-man NFC, I will clearly be rooting for the Cardinals for the sheer novelty of it.
Also, completely OT, but it occurs to me that we need a correspondent in the field for the inauguration. Preferably someone familiar with all internet traditions and in possession of a digital camera. My first choice just announced that he will be "reporting" from Israel, so any volunteers?
*** Update ***
For all you haters out there who like to give Tunch grief because he is undertall, my friend Tammy has sent along a picture of her 31.5 pound cat (and no, that was not a typo), Tyler. And believe me, this is a slimming picture taken from two to three of his good angles, as he actually looks bigger in real life: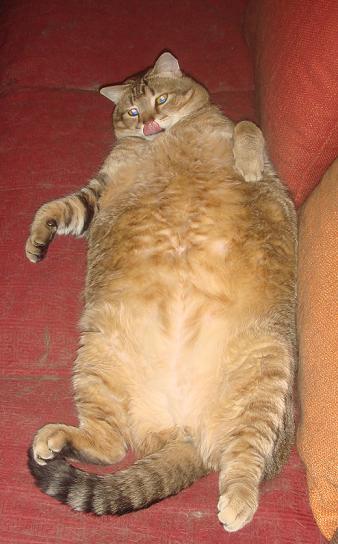 I have no idea what he is doing with his tongue, but there is a solid chance he might be trying to eat himself.