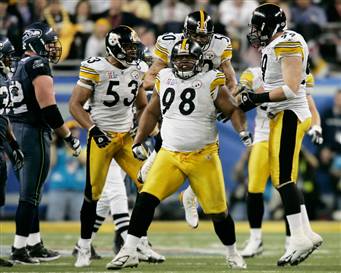 Hope it is a good game, but I am really thinking that after two close games this season, we are looking at a game that will probably break wide open pretty early.
Not sure why I think that, but I do. Go Steelers!
*** Update ***
That was the worst half of football I have seen in a long time. Phantom and/or bad calls on both teams (WTF was up with that roughing the kicker call? What about that blatant late hit on Ben? And apparently you have to run ten yards before anything is consider "by rule" a catch), hideous clock management from the Steelers, and bizarre play calling from the Ravens. As bad as both teams have been, the refs were worse.
If this keeps up I am going to suggest we just give the Lombardi trophy to the Cardinals.
And I would be remiss if I did not mention Sweed's apparent teflon hands (nothing sticks).