The oath has been administered, and Barack Obama is now the President of the United States of America.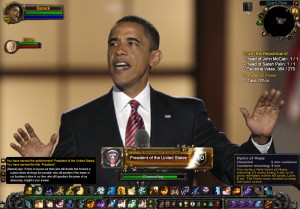 Click to enlarge. (via)
Remember that frequent commenter Renato is at the inauguration, and hopefully will have some pictures up to go along with his tweets.
Also, I note the DOW is down 140 . I suppose it is not too soon to begin impeachment proceedings.
*** Update ***
New website for the White House, complete with… a blog. Hopefully their blogger shows up for work in pajamas. Suck on that, MSM elitists.
Also, I am not sure how many of you saw it on your feeds, but on CNN there was a brief shot of Joe Biden taking pictures on a digital camera, then turning around and handing the camera to the giggling Obama kids. Probably my favorite part of the show.