News from the Hill:
Alaska Gov. Sarah Palin (R) has launched a new political action committee (PAC) to support candidates nationwide, potentially laying the groundwork for an eventual White House run.

SarahPAC will support "Gov. Sarah Palin's plans to build a better, stronger, and safer America in the 21st century," the organization's website says. "SarahPac will support local and national candidates who share Gov. Palin's ideas and goals for our country."
Sarah Palin's "ideas":
No doubt any money sent to SarahPac will be money well spent, Republicans!
*** Update ***
So I went to SarahPac to check things out, and, just like in the campaign, her "ideas" seem to be missing: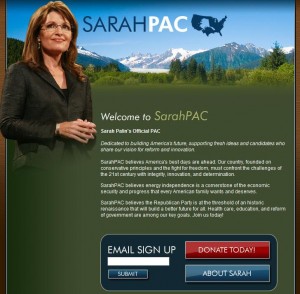 The links to the hagiography biography and to donate work, though. Funny that.