I missed Blogroll Amnesty day, as I always manage to miss every blog "holiday" of note, so I wanted to give everyone and option to promote some up and coming blogs, some blogs that are worth checking out but get little attention, etc. Consider this your thread.
One of the things I have noticed is that I just don't seem to link as many "small" blogs as I once used to, and that is in large part due to two things. First, people don't email me links to their blogs as often as they used to, and I can't figure out why. I get dozens of links to news stories or major blogs every day, but little in the way of links to smaller blogs. Seriously, it is worth your time to email me if you have something to share, and I do read my email and the comments (apparently not closely or frequently enough- check the update) when I have time.
Second, the most valuable source of links for me is the comments. I honestly don't know how other bloggers without comments do it, or why.
So here it is. Blogroll Amnesty day. Add your links, and in a day or so I will add a Blogroll Amnesty link on the sidebar and add five or so links.
Also, let me take this time to note that chief Tunch hater, Laura W., who seems to have dedicated her life to lowering Tunch's self-esteem by collecting a series of spiteful comments about his weight, seems to have a mini-scandal regarding her own cat's porcine appearance: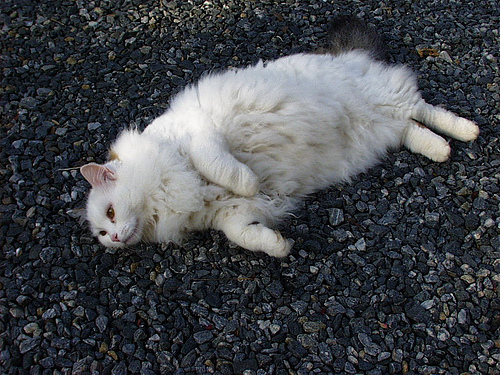 "I've fallen and I can't don't want to get up."
Want to know why there is nothing in the picture but Walter? He ate everything else. All those little things in the picture? That isn't gravel. Those are moons drawn to Walter's gravitational force. Wonder what he is looking at in that picture? A hamburger off in the distance.
I think a round of Walter jokes is in order. Also, from now on, every picture of Tunch will be accompanied by a picture of Walter, so as to make Tunch look slim by comparison.
*** Update ***
Somehow, in my eagerness to mock Walter, I missed the fact that he is no longer with us. This post fails. As such, a loving remembrance of Walter: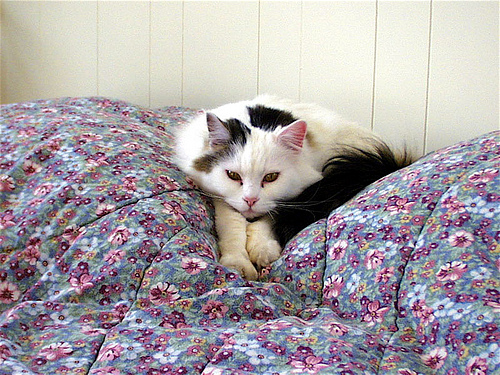 Inadvertently mocking a valued commenter's deceased pet has to be the new low for this website.