Even the Washington Post clues in:
Three months after their Election Day drubbing, Republican leaders see glimmers of rebirth in the party's liberation from an unpopular president, its selection of its first African American chairman and, most of all, its stand against a stimulus package that they are increasingly confident will provide little economic jolt but will pay off politically for those who oppose it.

After giving the package zero votes in the House, and 0with their counterparts in the Senate likely to provide in a crucial procedural vote today only the handful of votes needed to avoid a filibuster, Republicans are relishing the opportunity to make a big statement. Rep. Pete Sessions (R-Tex.) suggested last week that the party is learning from the disruptive tactics of the Taliban, and the GOP these days does have the bravado of an insurgent band that has pulled together after a big defeat to carry off a quick, if not particularly damaging, raid on the powers that be.
The thing is, they are being so transparently cynical that it is hard to believe that the American people will fall for it.
*** Update ***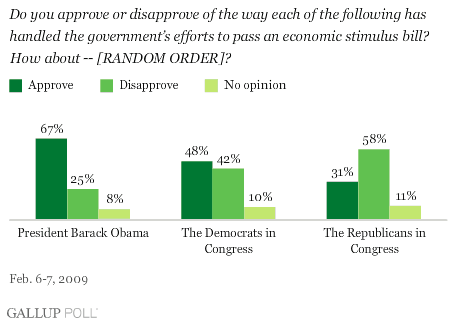 Doesn't seem to be working out quite the way the Republicans want in the short term, although they are playing long ball here. They are hoping they can pin the economy on the Democrats in 2010 and 2012. And, in all reality, given Bush's numbers the last few years, a 58% disapproval rating for Republicans IS a step in the right direction. The more important finding is that 66% of Republicans, 78% of independents, and 93% of democrats think that it is either "critically important" or "important, but not critical" that a stimulus plan be passed.
We will see how this plays out politically, but personally, I hope the plan just stops some of the economic bleeding.