Karl Rove, in the WSJ:
Over the past month, House Republicans have used the stimulus bill to redefine their party, present ideas on how to revive the economy, and force congressional Democrats and the president to take ownership of the spending programs soon to be signed into law.

***

House Republicans had the wisdom to continue to talk to the Obama White House. This made them look gracious, even as the president edged toward a "my way or the highway" attitude.
Hrmm. Gracious. About that: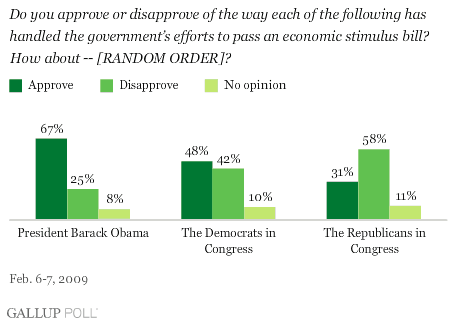 I guess, at this point, it would be cruel to remind everyone that Karl Rove thought the Republican behavior during the Schiavo affair was good politics.
*** Update ***
Also in the WSJ, this nonsense in which the editors decry the fact that Obama pre-selected questioners at the press conference (not questions, but questioners, a common practice, but Glenzilla has already done the honors.
I suppose it would just be overkill to mention other press tricks of the Bush administration, including Armstrong Williams, Jeff Gannon, and my personal favorite, the staged FEMA press conference.
I see that Republicans have seamlessly transitioned from eight years of DWTFTW to just flat out making shit up.