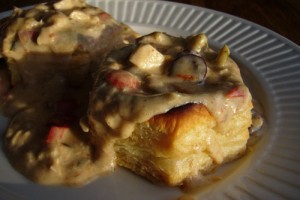 Those of you determined to lose weight start dieting tomorrow will love this.
3 tbs butter
1 tbs salt
1/2 tsp paprika
1/4 tsp nutmeg
dash of cayenne pepper
3/4 cup heavy cream
1/2 cup whole milk
1.5 lb haddock filets, cooked and flaked (I baked for 20 min at 330, with bread crumbs on top to capture flavor)
3 tbs dry sherry
2 large egg yolks
4 puff pastry shells
Melt the butter on low in a medium pan. Add flour, salt, paprika, nutmeg, cayenne pepper and stir until smooth and bubble. Gradually add cream and milk. Cook until thickened, stirring constantly.
Whisk egg yolks and sherry in a bowl, then add 1/3 of the hot mix. Return to the saucepan and cook for 2 min. Add fish and cook for 1 min. until hot.
Serve over baked pastry shells (brush them with egg yolks before baking, 375 for 10-12 min, for a nice finish).
Happy valentine's day.
***update***
Forgot to quantify the flour. I added one tablespoon at the beginning and about another half tablespoon as the sauce thickened.