The SNL opening skit last night poked fun at the House GOP echo chamber:
From that Frank Rich column we linked in the earlier post today:
The stimulus battle was more of the same. "This town talks to itself and whips itself into a frenzy with its own theories that are completely at odds with what the rest of America is thinking," he says. Once the frenzy got going, it didn't matter that most polls showed support for Obama and his economic package: "If you watched cable TV, you'd see our support was plummeting, we were in trouble. It was almost like living in a parallel universe."

For Axelrod, the moral is "not just that Washington is too insular but that the American people are a lot smarter than people in Washington think."

Here's a third moral: Overdosing on this culture can be fatal. Because Republicans are isolated in that parallel universe and believe all the noise in its echo chamber, they are now as out of touch with reality as the "inevitable" Clinton campaign was before it got clobbered in Iowa. The G.O.P. doesn't recognize that it emerged from the stimulus battle even worse off than when it started. That obliviousness gives the president the opening to win more ambitious policy victories than last week's. Having checked the box on attempted bipartisanship, Obama can now move in for the kill.
But, you say- "Surely their unanimous no votes in the house and their unified opposition must be paying dividends!" Via the GOS, some polling data: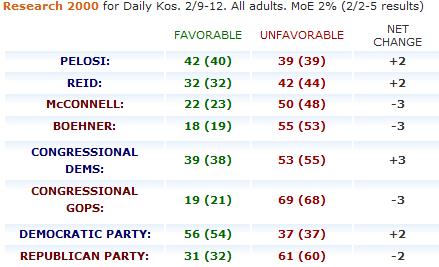 I honestly have never seen a party go so far out of their way to marginalize themselves, and folks who study groupthink are going to look at the last few months as a veritable gold mine. Why the Republicans have decided to, in the middle of numerous crises, ignore the outcome of an election and run headlong against a popular new President into opposition for opposition sake is beyond me.
And look, there are very legitimate reasons to oppose the stimulus bill. No one knows if it will work, and the Joe Biden gaffe that the chattering classes were worked up about a few weeks ago was a gaffe precisely because it contained a lot of truth. While I have no idea where Joe was getting his numbers, the fact is that no one knows if the stimulus bill will work, and similarly, adding 800 billion in debt should be hard. Things are looking so bad there is no way to know whether or not this bill will change the cycle we seem to be stuck in, and an argument could be made that the real game is the Geithner plan, which to date has not inspired much confidence. The current stimulus bill does have a lot of spending, but from what I understand, much of it is in the form of padding the fall.
Additionally, spending that kind of money shouldn't be easy, and an opposition that didn't spend every day running around yelling 'No' and 'Tax cuts' probably could have built a more effective case against the stimulus bill. Sadly, that would have required counter proposals and arguments that didn't start and end with tax cuts. But it is the way the Republicans are going about opposition that is so ridiculous. Their unified vote is so transparently just political gamesmanship, especially when you consider that immediately after the vote, Republicans were issuing press releases touting the benefits of the bill for their district.
But, for whatever reason, the GOP simply can not figure it out. Michael Steele, the new RNC chairman is busy telling everyone there is absolutely no reason for anyone to trust the GOP, while the rest of them are spending their time running around comparing themselves to the Taliban. The reason Steele felt compelled to announce that the GOP can not be trusted is because everyone agrees they can not be trusted. He was merely stating the obvious. Rather than try to build trust, though, rather than sit back and take a breather, compose themselves, and plot a way forward for both the country and the GOP, the Washington Republicans seem intent on committing seppuku. Instead of rebranding themselves and putting forth an alternate vision, they seem to think that unified obstructionism based on the hope that things get worse is the real way forward for them. And they don't realize that everyone sees through it.
The Rich piece notes that not all Republicans are on board the crazy train, and points to Charlie Crist and others. Fair enough, but I would also point to someone else who, despite being mocked by this website and others, seems to have figured things out and is keeping a low profile- Sarah Palin. She refused to be allowed to serve as a leader against the opposition, and seemed to play it both ways. She also removed herself from a high profile appearance at CPAC, choosing to stay at home and govern. After a disastrous couple month post-election media blitz, she seems to have figured out that keeping a low profile right now makes the most sense.
Say what you want about Sarah Palin, but she seems to be smarter than the rest of the GOP. I don't know if it is because she is not stuck in the DC GOP cocoon, or because she has solid political instincts, or because the states are hurting so bad that she knows her state needs the help from the stimulus bill, but it is clear she has decided to not wed herself to the DC republicans. That says something, doesn't it?
*** Update ***
This Brownstein interview with President Obama seems to suggest Obama understands the drill:
Obama said the near-unanimous Republican opposition, after all his meetings with GOP legislators, would not discourage him from reaching out again on other issues. "Going forward, each and every time we've got an initiative, I am going to go to both Democrats and Republicans and I'm going to say, 'Here is my best argument for why we need to do this. I want to listen to your counterarguments, if you've got better ideas, present them, we will incorporate them into any plans that we make and we are willing to compromise on certain issues that are important to one side or the other in order to get stuff done,'" he said.

Cooperation on the economic agenda, he suggested, may have been unusually difficult because it "touched on… one of the core differences between Democrats and Republicans" — whether tax cuts or public spending can best stimulate growth. He predicted there may be greater opportunity for cooperation on issues such as the budget, entitlements and foreign policy. And if he keeps reaching out, he speculated, Republicans may face "some countervailing pressures" from the public "to work in a more constructive way." White House aides suggest that regardless of how congressional Republicans react on upcoming issues, Obama will pursue alliances with Republican governors and Republican-leaning business groups and leaders.

Yet while promising to continue to seek peace with congressional Republicans, Obama also made clear he's prepared for the alternative. "I am an eternal optimist [but] that doesn't mean I'm a sap," he said pointedly. "So my goal is to assume the best but prepare for a whole range of different possibilities in terms of how Congress reacts."

***

In such comments, and his remarks about his willingness to work with or without Republican support in Congress, Obama may be revealing much about his conception of leadership. He was insistent that a president's responsibility is to resist the daily (if not hourly) scorekeeping of the modern political and media system and keep his eye on the horizon.
Obama seems perfectly content to keep extending olive branches, incorporating the Republican's ideas when they are good, and then allowing them to get no credit for anything as they marginalize themselves while he "pals around" with Republican governors like Charlie Crist.