Sullivan laughs at a Captain Ed quote, but misses the better quote:
First, the Republicans need to re-establish credibility as the party of fiscal responsibility, and supporting Porkulus is antithetical to that effort. No matter how big a tent the Republicans need to pitch, they still need to stand for core values — and among them should be fiscal responsibility and smaller government for greater individual liberty. Porkulus fails on both counts, which is why the House GOP maintained a solid wall of opposition to it. Specter, Snowe, and Collins apparently don't share those values.
About those core values- how well are they holding up to the test of time? Not very well, it seems. A couple graphs: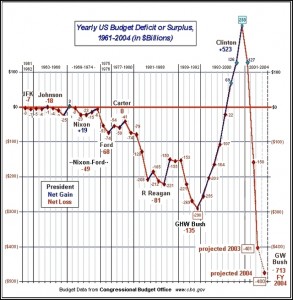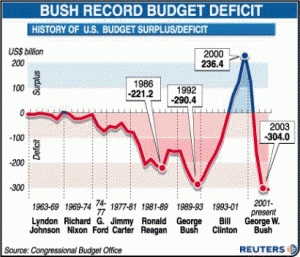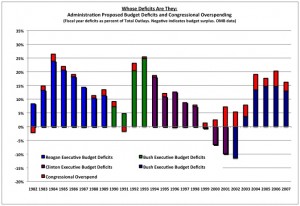 And none of these graphs include the violence done to the budget in the last year of the Bush administration. Long story short- even during the years of Republican Jesus Ronald Reagan, Republicans were never "fiscal conservatives." It took me some time to come to terms with it, too, because I deified Reagan with the best of them and still have my 'Peace Through Stregnth' buttons from the 80's, but you just can't argue with the facts.
And just because I am full of spite and like to rub things in, let me point to this:
I find it amazing that the Republicans who doubled the debt of the country in eight years and produced no new jobs doing it, gave us an economic record that was totally bereft of any productive result are now criticizing him for spending money. You know, I'm a fiscal conservative, I balanced the budget, I ran surpluses.
That was Bill Clinton, aka the Clenis. That should leave a mark. The Republican response to their utter failure? To run around hollering "porkulus" and releasing Aerosmith videos.