I was watching AC 360 last night, even though John King was filling in for Anderson Cooper, and the following segment was mind-numbing when you took it in its totality:
DAVID GERGEN, CNN SENIOR POLITICAL ANALYST: Well, John, I think there's a range of priorities for him now.

Having cleared this hurdle — and it is a major victory for him — with the stimulus package, the White House knows that he has tougher, higher hurdles ahead. Tomorrow, just as he's signing, he does have this automobile bailout problem hitting his desk with a big thud.

My sense is that, unlike where we were a few weeks ago, the possibility of the administration allowing some sort of structured bankruptcy to occur is higher today than it was a while back. I think there's not a big stomach to keep putting money, dollar after dollar after dollar, into this.

The day after that, he's going to announce his housing plan. That's going to be expensive. People are going to be looking for details. He's got the banking bailout still to come back to, the biggest of all of the problems, three times the cost, probably, of the stimulus package.

Nobody knows what — how to deal with these toxic assets, a real question whether we're moving toward nationalization. And, then, at the end of the month, John, as you well know, he has to — he has to face the deficits and produce a budget that's going to forecast deficits out 10 years. And I think they're going to be eye-popping.

KING: Well, Gloria, let's follow on that point. Republicans are now saying, Obama is presiding over the era of big bailouts.

I asked Senator John McCain yesterday if he thought the stimulus fight indicated the beginning of a partisan war. He didn't go quite that far, but he did say this. It's a bad beginning," he says, because what we promised the American people, what President Obama promised the American people, that we would sit down together.

A bad beginning, Gloria? Is that just political criticism, or are we going to see this, Republicans drawing this line, as we go on and on and on?

***

KING: And, Joe, we're seeing more and more evidence of the pain at the state level, Kansas saying today it doesn't have the money to give people their income tax refunds, California tonight saying 20,000 people will be laid off.

As the governors deal with this pain, A, how soon might this money get to the states to help them, and, B, are people out there going to blame their governors, or might they start to blame their president?

JOE JOHNS, CNN SENIOR CORRESPONDENT: Well, the truth of it is, if you look at the economic models on this recession, a lot of people are suggesting the main thing the president has to do is avoid another big blow to the economy. And, certainly, you want to manage and minimize the economic turmoil in the states.

***

People may want to blame Barack Obama, but, at the end of the day, once this money goes out the door, in a lot of ways, it's going to be up to the states and how well they're prepared to try to get this money out quickly, John.

KING: And, David, we're talking about the long list of domestic challenges, but another huge issue facing this president, his press secretary saying he is close to making a decision on sending potentially thousands of more American troops into Afghanistan.
I am sorry for the length of that excerpt, but I wanted you to get the full feel for it, as it went on for almost five minutes. It was simply point after point of disaster or looming disaster, and even though it did not touch on everything currently facing the President, it seemed like an overwhelming list. Right now we are facing the equivalent of an economic 9/11, and all of these problems have been dumped on the current administration. I don't remember a time when a new administration had so many problems. Even the Bush administration had eight months to get itself together before 9/11. By way of comparison, this is what the Bush administration was dealing with on February 24th, 2001: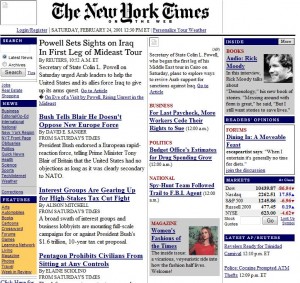 About the only thing Bush had to deal with at the time was how to spend the budget surplus and dealing with some angry Democrats still pissed off about the 2000 election. Compared to the current crisis, especially when you consider the the Republicans who helped to create or created most of these problems have nothing to offer but spitballs and chants of porkulus, it just makes your blood boil. I don't even want them to agree with President Obama or the Democrats on everything, I just want them to act in good faith, and apparently that is too much for them. Country first.
Yesterday, David Frum and Rouss Douthat had a back and forth about the hopelessness of the current GOP, and missing from these discussions was one key point- the recognition that the Republicans are where they are for a reason. They earned the minority, fair and square. They worked hard to get where they are, and the deserve to be in the position they are currently in electorally.