The NY Times reports some changes in how our federal spending is reported:
For his first annual budget next week, President Obama has banned four accounting gimmicks that President George W. Bush used to make deficit projections look smaller. The price of more honest bookkeeping: A budget that is $2.7 trillion deeper in the red over the next decade than it would otherwise appear, according to administration officials.

The new accounting involves spending on the wars in Iraq and Afghanistan, Medicare reimbursements to physicians and the cost of disaster responses.

But the biggest adjustment will deal with revenues from the alternative minimum tax, a parallel tax system enacted in 1969 to prevent the wealthy from using tax shelters to avoid paying any income tax.

Even with bigger deficit projections, the Obama administration will put the country on "a sustainable fiscal course" by the end of Mr. Obama's term, Peter R. Orszag, the director of the Office of Management and Budget, said Thursday in an interview. Mr. Orszag did not provide details of how the administration would reduce a deficit expected to reach at least $1.5 trillion this year.

Mr. Obama's banishment of the gimmicks, which have been widely criticized, is in keeping with his promise to run a more transparent government.

Fiscal sleight of hand has long been a staple of federal budgets, giving rise to phrases like "rosy scenario" and "magic asterisks."

The $2.7 trillion in additional deficit spending, Mr. Orszag said, is "a huge amount of money that would just be kind of a magic asterisk in previous budgets."

"The president prefers to tell the truth," he said, "rather than make the numbers look better by pretending."
This is great news, long overdue, and something that I bet even a bunch of conservatives will really like (Coburn, Brownback, DeMint, Ron Paul- I'm looking at you). The dirty secret for ages has been all this off-budget stuff, and you never even see it mentioned on blogs, the more obsessive government watchers in our society. Offhand, the only time I remember ever seeing it mentioned is by guys like Steve Verdon and Alex Knapp at OTB. Case in point- here is the Heritage Foundation railing about off budget spending in… 1985.
At any rate, this will have several outcomes. The first, as was mentioned in the article, is to give the appearance of a much, much larger deficit, even though nothing has changed other than the fact that we are now acknowledging that we are spending money we have already spending. This is, in a sense, moving us from the current state of denial about our spending. If you need an analogy, what we have been doing for the past couple of decades in regards to spending is standing on the scale, seeing the number 300 and not liking it very much, and then saying "Well, I guess I won't count 100 lbs of this because it is bone and organ and blood, and I can't live without that, so I will just tell everyone I weigh 200 lbs! A little bit over my target weight of 180, but not that bad! Take that, critics!" Really, it is about that simple, although the analogy may not be perfect.
Second, this will help set the stage for any and all reform (including entitlement reform). You can't honestly set the country on the right track without having a clear picture of what our finances really look like. As in the example above, you can not set yourself on a road to healthy living if you are pretending you weigh 200 lbs when you actually weigh 300. This fixes that problem.
The third outcome is that this will lead to a general freakout on both sides of the aisle. Democrats are going to hate not being able to hide the large entitlement numbers out there, and Republicans are not going to be able to lie about the real costs of our excellent military adventures overseas and the yearly cost of our defense budget.
Politically, this is very risky for Obama, because you just know that the Republicans, in their current effort to re-brand themselves as fiscal conservatives, are going to look at the new and much larger accounting numbers for the upcoming years and scream blood murder about tax and spend liberals, and without hesitation will compare the current and future numbers under a more honest and open accounting system with past numbers using the OLD accounting system. I can guarantee it. I wouldn't give it an hour after the change is made before someone at Red State or elsewhere in the wankosphere or talk radio is saying something to the effect of "People said George Bush spent a lot of money, but look at the deficits under the socialist Obama!" They are that dishonest and that shameless.
The first thing I would do if I were Peter Orszag and company, and this is one of the very few times I actually hope someone in government listens to me, is to go back and re-score the last decade or so of budgets using the new accounting system, so when they roll this out they can say "Here is what this year's budget would have looked like under the old system. Here is what it looks like under the new system. Here are the past ten years worth of budgets under the old system. Here they are under the new system." For political reasons, this simply has to be done.
At any rate, overall, this is good news, and if I am wrong about anything or have made any mistakes, fill me in. Regardless, if there is anyone who can summon the nerd fury needed to beat the budget into submission, I would bet it is this guy: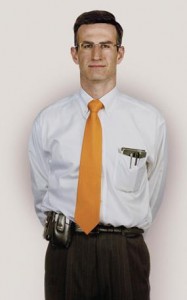 That picture of Peter Orszag was taken from the excellent photo essay at the NY Times magazine about the folks who make up the Obama administration.
*** Update ***
Another possible outcome is this could lead to revision/simplification of the tax code due to the AMT stuff.