Blogged out, but I just got a picture in today of a pet that I have to post. Yes, there are still dozens of pictures in my folder waiting to be posted, but if you want to fast track your pet on to this blog, a sure-fire way is to send me a picture of your loved one in a compromising or humiliating position. Something like this: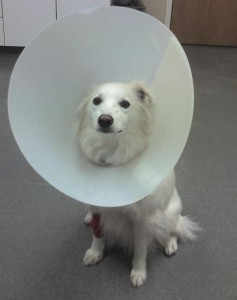 I am not sure what happened to this little fellow, but I love the look. Here is your nightly open thread.
*** Update ***
This belongs in no thread in particular, but I am so sick and tired of hearing the stimulus bill being called $800 billion in spending by Republican hacks. A sizable chunk of that bill was tax cuts, and I know I am off the GOP reservation, but since when did they start referring to tax cuts as government spending? Does that mean Bush spent a couple trillion dollars with his tax cuts? Or are tax cuts just considered spending when Democrats are the ones who cut them? Can't these people be honest about any damned thing?