An almost live action shot from the Tunch Cam™: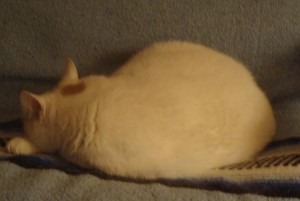 In other words, Saturday night is looking an awful lot like Sunday through Friday night around here.
On to something different, this paragraph in a story about pears confused me:
The Bartlett pear was the principal ingredient of fruit cocktail, which my generation back home had been raised on. But as the fruit cocktail died a well-earned death, the market for the Bartlett pear swooned. And that's how I got into trouble. I came home and set out to rescue the Bartlett pear market, save orchard farmland from development for tract homes, provide myself with a decent supply of good poire williams, which was impossible to get in Oregon at that time, and maybe make a buck or two.
Since when did fruit cocktail die a well-earned death? I just had some a couple weeks ago. And why would the demise of fruit cocktail be "well-earned?" What is wrong with cutting up a bunch of fruit and chilling it? Is this just a snobby NY yuppie thing? Is fruit cocktail déclassé and I never knew it?
At any rate, doesn't appear to be much on the boob tube tonight. I am either going to watch "W" on pay per view, do some gaming, or read. Can't figure out which yet.
*** Update ***
Link deleted because I just don't feel like dealing with 100 morons accusing me of buying into this crap.