Even Slate sees through the OBAMA IS BLEEDING TEH RICH stuff we're hearing from the Galt-going GOP gasbags:
On Tuesday, Washington Post columnist (and former Bush speechwriter) Michael Gerson argued in an op-ed that "Obama chose a time of recession to propose a massive increase in progressivity—a 10-year, trillion-dollar haul from the rich, already being punished by the stock market collapse and the housing market decline." The plans are so radical, "there will not be enough wealthy people left to bleed." CNBC's Larry Kudlow wrote that "Obama is declaring war on investors, entrepreneurs, small businesses, large corporations, and private-equity and venture-capital funds." Other segments on the financial news network warn of a tax on the rich, a war on the wealthy. My personal favorite was a piece from ABCNews.com, which had to be rewritten and reposted because the original was so poorly done. (The revised version isn't much better.) It quotes a dentist who is contemplating reducing "her income from her current $320,000 to under $250,000 by having her dental hygienist work fewer days and by treating fewer patients. [That way, she] would avoid paying higher taxes on the $70,000 that would be subject to increased taxation if Obama's proposal is signed into law."

[…]

Second, this return to 2001's tax rates was actually part of the Bush tax plan. The Republicans who controlled the White House and the Republicans who controlled the Congress earlier this decade decreed that all the tax cuts they passed would sunset in 2010. They put in this sunset provision to hide the long-term fiscal costs of the cuts. The Bush team and congressional supporters had seven years to manage fiscal affairs in such a way that they would be able to extend the tax cuts in 2010. But they screwed it up. Instead of controlling spending and aligning tax revenues with outlays, the Bush administration and its congressional allies ramped up spending massively—on two wars, on a prescription drug benefit for Medicare, on earmarks, etc. Oh, and along the way, they so miserably mismanaged oversight of Wall Street and the financial sector that it required the passage of a hugely expensive bailout. Even before the passage of the TARP, the prospect of extending all the Bush tax cuts was a nonstarter. Once Bush signed the $700 billion bailout measure into law, extending tax cuts was really a nonstarter. The national debt nearly doubled during the Bush years. So if you want to blame someone for raising taxes back to where they were in 2001, don't blame Obama. Blame Bush, his feckless Office of Management and Budget directors, his economic advisers, and congressional appropriators like Trent Lott and Tom DeLay.
John's graph sums up the myth about increasing marginal rates on taxes quite well: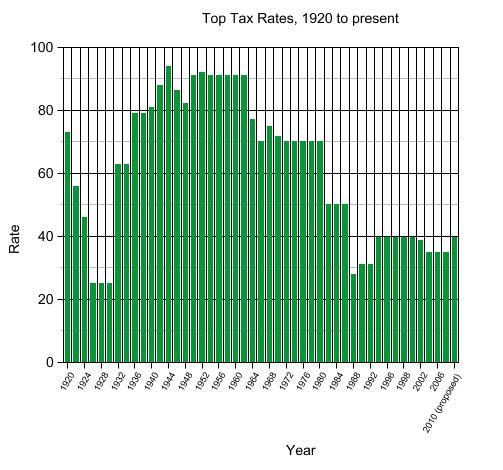 Anyway I'd like to tell Jim Cramer and Rick Santelli that there will always be a space in my parking lot, when you need a little coke and sympathy.