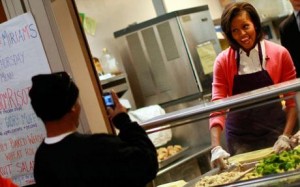 Michelle Obama served food at a food bank, and a picture accompanying the write-up has caused outrage among the usual suspects. Take it away, K-Lo:
Robert Rector has been pointing out for longer than I can remember that America has the wealthiest poor people in the world. And here seems to be a photo illustrating that: Michelle Obama was at a homeless shelter. While distributing lunch, one of the men she was serving lunch to took a picture of her on his cell phone.
You honestly must have to work hard to be this ignorant and out of touch. Put aside the fact that no one knows this man's situation, and it may very well be that he is recently unemployed and may not have that luxury cell phone for much longer. This guy may very well be a fraud (or, has been suggested in the comments, a volunteer or someone who just stopped by to see the First Lady), but no one has any idea from the picture. However, what shocks me is that I thought initiatives like this were common knowledge:
Beginning Thursday, a San Francisco startup tech company is going to help the homeless reconnect with society.

The company, GrandCentral Communications, will offer free voice-mail service through local shelters. Users will be able to dial in from anywhere to access messages from, say, family members, social workers or potential employers.

"It's a stake in the ground," said Craig Walker, GrandCentral's chief exec. "It's a tether to the rest of the world."
Often, one of the hardest things about "pulling yourself up by your boot straps" is the difficulty in getting a callback from an employer when you have no phone or permanent address. I am not sure how you get to be this callous, this out of touch, and this clueless, but these folks, who cheerleaded the nation's way into this mess, have mastered it.
Up next, K-Lo mocks the unemployed for their fancy clothes. I am so sick of these people. They mock things they simply do not understand, they are completely out of touch with the concerns and reality for the majority of their fellow citizens, and then, when the tax cuts of the Bush years are going to be allowed to expire (as was always planned- you do remember the "sunset provisions"), they shout "class warfare." Just plain sick of these people.
*** Update ***
More here.