This graph from Calculated Risk is getting uglier and uglier: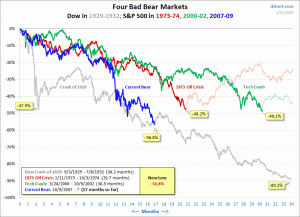 In the words of the Oracle:
Billionaire investor Warren Buffett said on CNBC that the economy "has fallen off a cliff" and that Obama's team is sending some mixed signals about its approach, hurting confidence.

"The message has to be very, very clear as to what government will be doing," said Buffett, an informal adviser to the White House. "And I think we've had – and it's the nature of the political process somewhat – but we've had muddled messages and the American public does not know. They feel they don't know what's going on, and their reaction then is to absolutely pull back."
I suppose the good news is that compared to all the examples provided in that chart, we are probably at the halfway point. Who knows, though, really? Is it wrong to view this as the "correction" (and that may not be the right term) for both bubbles? And what will the basic economic structure look like when it is all over? Will we end the "too big to fail" practice? Are the days of global ginormous financial institutions over? Has anyone heard anything about a new regulatory structure, or is it just too early to worry about fire safety while the house is still burning down?
I sort of have the feeling that there just isn't much that can be done to stop the current disaster, and while it is important to try to make this as painless as we possibly can, what is probably much more important is how we rebuild.