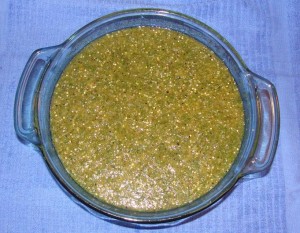 Not sure if this would still be considered salsa verde, but here is what I did:
couple pounds of tomatillos
two onions
dozen or so serrano peppers
couple habaneros
couple cloves of garlic
a metric ton of cilantro
some kosher salt
a couple limes
I took out the cast iron skillet, as suggested in the comments, and slow roasted the peppers, the garlic, the tomatillos, and the onions. I browned them a little bit more than all the online guides said to, but I was hoping that would make it a little smokier. I then seeded the peppers, peeled the garlic, and threw it all in the food processor. I then squeezed a couple limes, added some salt, and then when it tasted a little empty, added a teaspoon of sugar to round it out a touch.
It turned out to taste pretty damned good, with a smokier and hotter taste than the salsa verde I am used to buying at the store. I am not sure if I like the habanero taste in this, but it did heat it up a little bit. I added the habanero because I am a firm believer that if I am not sweating and have to blow my nose after a couple bites of something, it is not hot enough, but I am not sure if that was the right pepper to add. Don't get me wrong- it is good. But I am not sure if it is as good as it could be. Can't wait for my chicken breasts to stop marinating, and then it is game on.
So what did I do wrong, or what should I do differently next time?