Not to be left out of some cheap populism, Bob Owens takes to the pages of Pajamas Media with this exclusive titled "Contributions to Obama Campaign Track Bailout Money":
Barack Obama's lack of leadership in a down economy has now hit crisis proportions, as his claimed inability to block millions of dollars in bonuses for executives of bailout recipient AIG has caused even his supporters to turn on him.

But while the ire of Congress and the media focus are on the $165 million that AIG paid out in bonuses to their executives, the president is hoping you won't notice the $100 billion in taxpayer bailout dollars that AIG paid out to other banks, including $58 billion to foreign banks and $36 billion given to French and German banks alone.

The Obama administration is allowing AIG to bail out the rest of the world with your tax dollars.
Putting aside the silly notion that it is Obama's lack of leadership that has caused this crisis, Owens then goes on to build the case that Obama is just shoveling money to these companies because of campaign contributions from those corporations. He then links to Open Secrets, which has the following in BLARING RED LETTERS:
This table lists the top donors to this candidate in the 2008 election cycle. The organizations themselves did not donate, rather the money came from the organization's PAC, its individual members or employees or owners, and those individuals' immediate families. Organization totals include subsidiaries and affiliates.
Next, our dimwitted friend apparently didn't even read the Businessweek piece he linked to, because if he had, he would have seen the .pdf file that they used as the basis for their report. I can't blame Owens for not reading it, as it was a massive document.
It was six pages, two of which were graphs and charts.
"Hidden" in page one of the document is the following:
Using funds from the emergency loan, financial counterparties listed on Attachment A (all attachments are posted online at http://www.aig.com/Related-Resources_385_136430.html ) received a total of $22.4 billion in collateral relating to CDS transactions from AIGFP between September 16, 2008 and December 31, 2008. This amount represents funds provided to such counterparties after the date on which AIG began receiving government assistance. The counterparties received additional collateral from AIG prior to September 16, 2008.

On November 10, 2008, AIG and the FRBNY established Maiden Lane III, a financing entity, to purchase the securities underlying certain CDS contracts from the counterparties to such contracts, allowing the cancellation of the contracts. Attachment B lists payments made by Maiden Lane III to such counterparties.

Municipalities in the states listed on Attachment C received a total of $12.1 billion from AIGFP between September 16, 2008 and December 31, 2008 in satisfaction of Guaranteed Investment Agreement (GIA) obligations. GIAs are structured investments with a guaranteed rate of return. Municipalities typically use GIAs to invest the proceeds from bond issuances until the funds are needed.

Public aid was also used to satisfy obligations to financial counterparties related to AIG's securities lending operations. Securities lending counterparties listed on Attachment D received $43.7 billion from September 18, 2008 to December 31, 2008.
The time period of September 18, 2008 to December 31, 2008 was mentioned not once, not twice, but three times on the VERY FIRST PAGE OF THE DOCUMENT. Apparently concerned that some folks might miss those dates, they included them in large bold letters at the top of their charts and graphs, as well: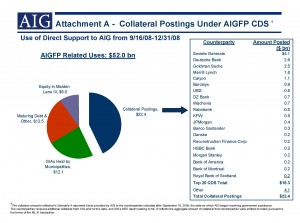 Now, if you read Bob Owens during the campaign, you would have thought that Obama's first priorities as President would have been to institute Sharia law, unionize ACORN and pay them 100 dollars an hour to go door to door taking away shotguns from white people, and then burn down every small business and build a mosque in its place. But, the times have changed, and now Owens informs us that President Obama is looting the treasury to send your tax dollars to companies that were by law forbidden from contributing to his campaign but he is sending them the money anyway, and even better, Obama managed to do it while Bush was President.