For people who spent the last eight years swearing that polls didn't matter, right blogosphere seems awfully giddy about this latest Zogby "poll" stating that Obama has fallen to a 50-50 approval rating. Nate Silver points out that this poll is complete garbage and about as useful and reliable as the polls on the People magazine website asking whether you would rather spend a weekend with Britney or Lindsey.
Here is Gallup, which I think is the gold standard: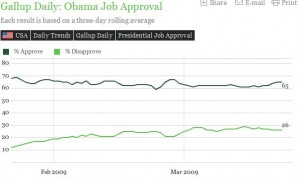 I don't know why these guys keep latching on to Rasmussen and Zogby other than that they really are just interested in not only creating, but staying in their own reality. Rasmussen and Zogby will keep telling you what you pay them to tell you, but it doesn't reflect what is actually going on in the real world. It is sad, really.