It's worth revisiting the point in January 2002 when Paul Krugman predicted that Enron and the system that allowed it would have a more lasting impact on America than 9/11.
Sept. 11 told us a lot about Wahhabism, but not much about Americanism.

The Enron scandal, on the other hand, clearly was about us. It told us things about ourselves that we probably should have known, but had managed not to see. I predict that in the years ahead Enron, not Sept. 11, will come to be seen as the greater turning point in U.S. society.
It still seems like a fair comparison. The lessons of both Enron and 9/11 went largely ignored in Washington, so we can think of them a matched pair. Let's grant that Iraq, spying and torture have no more to do with 9/11 than (cue the tortured cries of Mike Godwin) a burning building caused WWII*. It seems fair to grant that even a guy like Krugman, who anticipated a lot, could not predict that only a tiny handful of the imponderably multitudinous possibility branches that filled a time-space light-cone centered on the 2001 attacks could out-stupid the next six years of Bush.
On the other hand, Krugman and a minority of others did not need a crystal ball to see a landscape crowded with firms like Enron. Fiscally speaking these firms lived on nothing. Many, especially but not exclusively derivatives traders, engineered complex schemes that had the ultimate effect of making a financial dirt sandwich look nutritious. These bogus schemes succeeded so well that by the early Bush years ginormous firms had already died, financially speaking, but still walked around because they didn't know or wouldn't admit it.
At one point a regulatory framework kept stinkier firms from chewing through too many brains legitimate enterprises, once, but twelve years of Reagan, eight years of Clinton (who, in a fair world, would be CATO's favorite living president) and eight more years of fundamentalist Clif's notes Reaganomics took care of that. By 2002 clued-in economists like Krugman and Nouriel Roubini must have looked at the national scene and seen late-period Romero.
Then there's the twist that even Krugman may not have seen coming. Who would guess a large enough pack of zombies could go on feeding even after everyone from illiterate no-English farmhands all the way down to Michelle Bachmann realized what was happening? Read DougJ's post below. Check out the graphs at Drum's. It seems obvious as hell, now, while we watch Dr. Gramm's undead experiments gnawing away at the federal government.
If I drag this analogy out a little further**, maybe now everyone knows they should have listened the crazy-sounding expert with the stories about the zombies, the alien brain worms, the volcano that we all thought went cold, the gremlin on the wing or whatever. Given time they might start listening to him.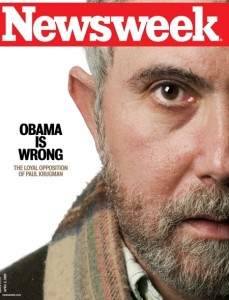 They laughed at me in the academy.
Crazier things have happened.
(*) Strong chance that this minor point will consume the thread. Oh well.
(**) Only one thing will kill this metaphor.