At some point today while I was trying to get work done, a certain cat stood behind me and yowled for an hour and a half straight. I tried to pet him. He yowled more. I checked his food. It was fine. He yowled more. I tried to play with him. He yowled. I shot him in the face with a squirt bottle. He yowled and ran out of the room, and came back in and starting meowing again. I shut him out of the room and he stood by the door and scratched at it while meowing.
Finally, I grabbed him and rolled him up in a towel like a dead person in a carpet: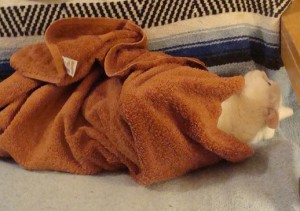 Oddly enough, he stayed there like that for a half hour and seemed to like it. We have a really weird relationship.