Yesterday we were treated to endless pontificating about the appropriateness of the gift the Queen herself suggested and whether or not the President and the First Lady breached etiquette through inappropriate touch and an insufficient bow, today we are treated to the daily wingnut fauxtrage du jour, which centers around how inappropriate it is to bow before the Saudi King: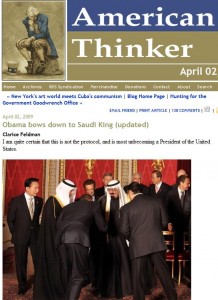 The text of that post kills me- "I am quite certain that this is not the protocol." Obligatory Sadly, No! link..
So, to recap. Yesterday- the bow before the Queen was insufficient and his present that she requested sucked. Today, the bow before a King was too much and proof we are this close to a Muslim caliphate.
Personally, I remember the good old days: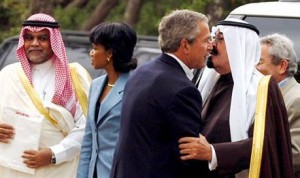 Don't ask, don't tell.