I'm not sure how many of you follow Krugman on his blog, but I try to keep up with him. It isn't that he posts too frequently, but that much of what he posts are things that I just don't understand. I read it, and I read it again, and I google, and then I think I have an idea what it means, and then I see someone completely contradict it and I give up. I get as much out of the "wonk" posts as Tunch would if I were to read Shakespeare to him.
I do, however, understand (for the most part) graphs: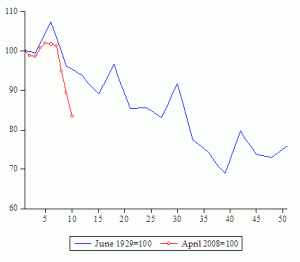 That is from a series of arguments stating that the world economy is as bad or worse than it was during the Great Depression. At any rate, it looks like other nations are embracing stimulus:
Japan's central bank presented new steps to encourage lending and its counterpart in Australia cut its benchmark interest rate to the lowest level in nearly half a century Tuesday, highlighting concerns that the global economy remains in dire straits despite signs of a pickup in China and elsewhere.

Japan, in particular, is in a recession that economists say could be the worst since World War II, and both the government and the central bank have repeatedly stepped up their economy-bolstering efforts as the extent of the downturn has become clearer.
I keep reading optimistic reports that we have "turned the corner" or "hit bottom," but is that really the case? I know that unemployment is a lagging indicator, but could we really be near the bottom?