The Republican rump:
House Republicans are calling on Homeland Security Secretary Janet Napolitano to step down or be fired in the wake of a controversial department memo that has sparked indignant battle cries from conservatives and some veterans.

"Singling out political opponents for working against the ruling party is precisely the tactic of every tyrannical government from Red China to Venezuela," said Texas Rep. John Carter, a member of the party's elected leadership who has organized an hour of floor speeches Wednesday night to call for Napolitano's ouster. "The first step in the process is creating unfounded public suspicion of political opponents, followed by arresting and jailing any who continue speaking against the regime."
These people are seriously not going to last four years. We should probably take out a few more of them in the 2010 elections just so they can take a breather and pull themselves together, because they clearly didn't get the message in 2006 and 2008.
The Republican Study Committee is fundamentally no different from the wingnuttiest blogger.
*** Update ***
Speaking of the Republican Study Committee, I believe this guy is a ranking member:
The title of that video, hosted on Rep. Joe Barton on his youtube channel, is "Energy Secretary puzzled by simple question." Barton then tweeted the following: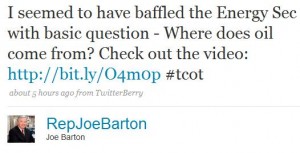 Yeah. You stumped the Nobel Prize winner. Like I said- wingnut bloggers ran the McCain campaign, and wingnut bloggers are all that is left of the GOP.
(via)