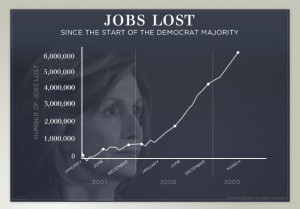 This graphic is:
A.) Actually blaming the current global financial crisis and the unemployment created by said crisis on the Democratic control of Congress.
B.) Using the phrase "Democrat Majority" instead of "Democratic Majority."
C.) Appearing on the Congressional Republican website, and not some idiot right-wing blogger's own personal shrine to idiocy. The url includes the word "accountability." I don't think they know what that means.
When you read that only 21% of the country identifies with the GOP, that is because all that remains of the GOP is a pathetic bunch of wankers who do things like this and think it is clever.