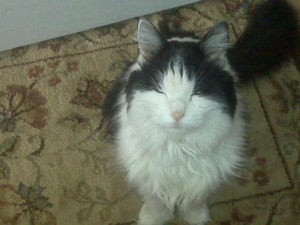 I mentioned the other day that my sister's beloved cat Sid died, so I thought I would throw up some pictures of him for the record. That is from above in his waning days, when he had shrunk a little from his formidable 20+ pound size.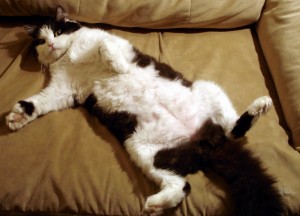 That is a picture of Sid lying on my couch in his porn pose, and I can tell it was summer because we had him shaved down for comfort. Just look at the size of those paws!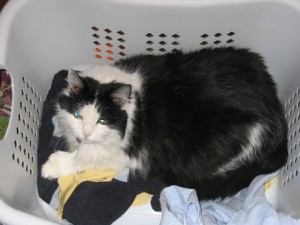 You know where a twenty pound polydactyl cat sleeps? Wherever he wants.
I have never met a cat who had so perfectly mastered the look of contented contempt until I met Sid. While he was nothing but loving with my sisters, I always got an evil eye- until he knew I was asleep, and then he would jump up on bed and start purring. He also, surprisingly enough, got along superbly with Tunch.
My favorite Sid story, though, is the time he chased a deer out of the back yard. That cat was fearless. And these pictures really don't do him justice, because you can't really tell just how magnificent and beautiful he was. He will be missed.