Richard Posner (via):
By the fall of 2008, the face of the Republican Party had become Sarah Palin and Joe the Plumber. Conservative intellectuals had no party.
Concomitantly, right-wing bloggers have finally ended their 72 hour fascination with Wanda Sykes and now have a new item topping memeorandum: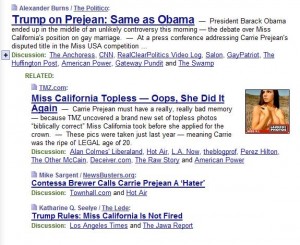 I would argue there is a relationship between these two things. All that we are missing is for Douthat to make Prejean the focus of his column next week.