A friend who works at a bank just sent me this: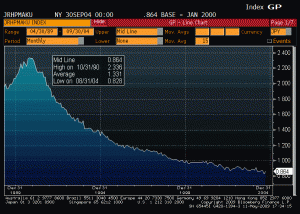 Above is a graph of Japanese housing prices between December 1989 and December 2004. You can see that it's down about 60%. In October of 2004, Alan Greenspan said "While local economies may experience significant speculative price imbalances, a national severe price distortion seems most unlikely." His rationale for this was that housing prices had never declined significantly year-over-year in the United States. But ignoring what happened in a very similar economy, Japan, was remarkably naive.
It's easy now to forget the kind of respect Greenspan was accorded. Bob Woodward wrote a book about him, titled Maestro, John McCain proposed making him fed chair for life, Bill Clinton strongly supported his reappointment as fed chair, and we were inundated with tales of how he made his decisions by examining economic data while in the bath tub.
This is why I tend to think that all the scrutiny of Geithner and Summers is a good thing. The recapitalization plan may work perfectly, but there's a tremendous danger in seeing them or anyone else as all-knowing Randian geniuses who magically absorb economic wisdom in the bath tub.

Update. Dennis reminds me of this McCain quote on Greenspan from 2007:
Republican John McCain said Thursday that as president he would appoint Alan Greenspan to lead a review of the nation's tax code – even if the former Federal Reserve chairman was dead.

"If he's alive or dead it doesn't matter. If he's dead, just prop him up and put some dark glasses on him like, like 'Weekend at Bernie's,'" McCain joked. "Let's get the best minds in America together and fix this tax code."
Best minds. Top men.