So I stopped by the kitty prison to check out what kind of dogs and cats they had up for adoption, and every single dog in there was beagle or part beagle. I supposed I should take advantage of the fact that Sullivan is on vacation to note how much I can't stand beagles, because I think they are the worst behaving dogs on the planet. I will adopt a mutt, just so long as I am sure that no more than 5% of its bloodline is beagle. The fact that the kitty prison is filled with unwanted beagles merely reinforces my opinion.
They did have some pretty adorable cats, though, although I really think I am set on getting a dog. This kitty was particularly adorable: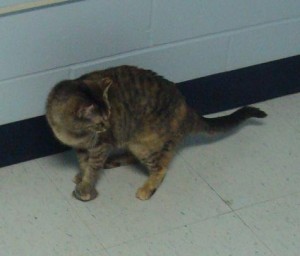 That is a pretty cruddy picture of her, and she is standing on a door-jam, so she doesn't have a club foot even though it looks like it. At any rate, she was really friendly, and could not meow- she did the purr/meow instead, and climbed all over me the whole time. She was also a fan of the across the room headbutt, in which she would run across the room, jump into your lap, and headbutt you. At any rate, I am going to think about this over the long weekend, because I really want a dog, but this cat was pretty adoptable. Her name was Shayla, btw, although that would have to change.
Tomorrow is Saturday, though, so I will go to the Animal Rescue and see what is going on there.