So we are having one of those great summer thunderstorms- the kind with the hot, damp wind and the rustling tree tops, complete with the strobe light lightning and rumbling thunder, and I decided to try and take some pictures and try to catch some lightning strikes. It turns out that I am a terribad photographer, and should probably stick to taking pictures of stationary obese cats. Every picture I took turned out like something out of Van Gogh's Starry Night sans stars. Here is a sample: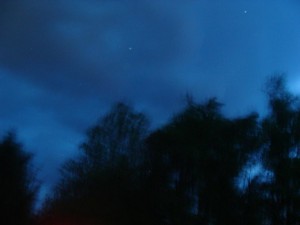 It appears some camera basics are in order. I have a Sony Cybershot DSC-H10
. What setting should I be using for this kind of shot?
Any tips or hints?