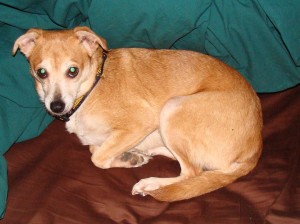 A quick Lily update. She spent the whole night in her crate, and she doesn't like to get out of it much. I got her out of it at 6:30, and she immediately came into the home office with me and hid underneath the desk. I had to get her out, took her down to the Rails to Trails paths, and we went for an hour walk.
I haven't seen her eat or do #2 yet, but she did do #1 and there were no accidents anywhere in the cage or elsewhere, so I guess that is good. She is just really, really timid. That isn't a concern for now, and is to be expected. I'd be timid if I were in her shoes, and it doesn't help that she has a guy who walks like Lurch at the other end of the leash and a ginormous cat sizing her up as a tasty snack. If she continues to stay in her shell, I will worry about it in a couple of weeks.
She really has no clue what to do on a leash, though. Sometimes she walks right by me, other times she runs around in a circle looking like she is trying to get away from me, other times she acts like a normal dog. She also does not seem to care for any of the doggie treats (although this will surprise no one to learn that Tunch absolutely loves them), and she is not chewing her bone and doesn't know what to do with bones. I'm really guessing she has never been socialized at all and has no clue how to be a dog.
She swallowed her pill with no problem (Prednisone), and she didn't fight me when I gave her her liquid medicine (Cephalexin). I measured out her food last night, so when I get home from work I will measure what is left and see if she has eaten anything. Hopefully she just needs to reach a comfort level. As I type this, I hear Tunch in the other room trying to get at the treats I have on a shelf, so I need to wrap this up.
Other than that, things are going well. I'm just going to give her some time and try to balance giving her space with making sure she knows who the leader of the pack is around here.
Any thoughts?